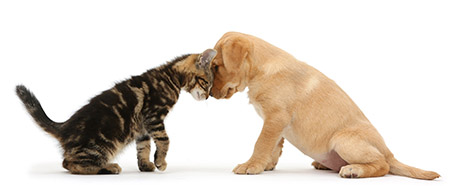 Veterinary Service with Courtesy & Respect!
Here is a summary of what to expect when arriving at the Canadian Veterinary Hospital in Doha for your first appointment.
At the Canadian Veterinary Hospital it is our commitment to pay full attention to the needs of your pets. Our personalized services are provided with courtesy and respect.
When you arrive for your appointment you will be greeted warmly and we will usher you into an examination room as soon as we have one available. Our goal is to see all of our clients and patients on time. Although we have contingencies for emergencies, there will be times where the unexpected will create delays. We will ensure these are minimized as much as possible.
As many clients in Doha still come for a first visit without an appointment, we continue to prioritize appointments, and yet still see everyone else on a first come first serve basis.  To avoid delays we ask you to help us by calling ahead for an appointment.
Once you arrive a team member will ask you to fill out a new client/new pet information form. This will help our team ensure we have all the relevant details to safely look after your pet.
Often you will first see a veterinary technician who will ask you some questions about your pet in order to gather important information regarding your visit. They will check your pet's weight, and scan your pet for a microchip. They may also check your pets' temperature, pulse and respiration depending on the reason for your appointment.
Following this one of our veterinarians will meet with you and your pet.  They will review your pets medical notes, take a thorough history from you, examine your pet completely (from the tip of the nose to the end of their tail), and make an initial assessment of how they are doing. The veterinarian will make very detailed medical notes about the history and findings of their physical examination.  They will answer your questions patiently and thoroughly, and plan further diagnostics or treatment should they be deemed necessary. We will not perform a test or prescribe medication without first discussing it with you to ensure that you have a complete understanding of what is being recommended. The doctors will work together with you in order that you make an informed decision about what is best for your pet.
Depending on your needs, a veterinary technician may provide you with educational information on anything discussed, and answer routine wellness and care questions for you. Our client care specialists will handle billing and schedule any needed follow up.
We are excited to meet you and your pet family members!