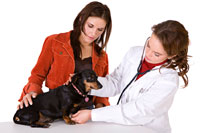 If your pet becomes injured or sick outside our normal business hours, call us immediately. You'll be able to speak to a veterinary technician or nurse to help determine the nature of the Emergency. They may tell you to proceed directly to the hospital, or ask for your phone number and one of our veterinarians will return your call as soon as possible. If you believe it is an emergency or your pet is in serious distress, it is always best to call as soon as possible.
Please note that this service is not for the purpose of making daytime appointments or asking routine questions. We only have one after hours line, so if our team are dealing with a non-emergency call, this could prevent them quickly helping with another pet who is in serious distress. We all appreciate your help and understanding, and are doing our best to be there when your pet needs us.
If on a weekday you notice your pet is not well, it is always better for them to see the veterinarian as early in the day as possible. This is not only less costly for you, but our whole team is there to give them undivided attention, as would be the case in a human hospital. Seeing them early in the day also helps the veterinarians diagnose and stabilize your pet during daytime hours, so both you and the veterinary team can get some rest overnight.