North
North is a 7 weeks-old Domestic Sorthair male cat who is looking for a loving home. He is great with people although a little shy, but extremely sweet. He has a beautiful colour coat. If you are looking for an adorable cat to spoil, you can be the perfect family for him.
Help me
Help Me is 7 weeks-old female. Her colour is wonderful, but she also is very charming. She likes being close to people and enjoys spending time with them. If you are looking for a gentle friend, she will fulfill your expectations. Help Me is a healthy kitten she is ready for adoption.
Ciao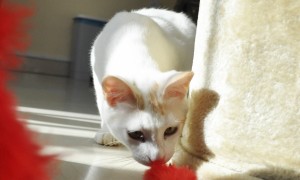 Ciao is a gorgeous ten-month-old domestic short-hair with pretty cream accents in is fur. He's very sociable and friendly in nature with anyone and everyone. He is searching for the perfect family to adopt him and give him a forever home.