Travel Options for Pets – Types of Airline Travel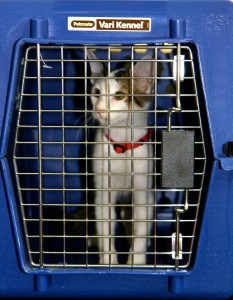 Often there is a lot of confusion with the terminology and details associated with the ways pets are allowed to travel by air. We have tried to outline below the different types of travel, and some of the pros/cons of each.
Travel options for pets depend largely on the chosen airline and the regulations of the destination country.   On any given day there are more and more pets traveling the world. The types of travel available for pets are in the passenger cabin, as excess luggage, or as manifested cargo.
For all three types of travel, CVH can help you with the medical requirements and documentation for your pet. We can also provide airport delivery or pick up for you pet regardless of how you decide your pet will travel. In the first two cases your pet will be traveling on your airline ticket, and therefore you make their booking and check them in at the passenger terminal. If you chose the option of manifested cargo, the CVH team of relocation specialists and veterinarians will make the arrangements for you.   However, regardless of the way you decide your pet will travel, we are here to discuss any questions you may have regarding your pets travel.
Travel in the Passenger Cabin:
This type of travel is less common as many airlines no longer allow pets in the cabin. Qatar Airways will only allow hooded and tethered falcons to travel with owners in the cabin. Most airlines do not allow any pets in cabin. The few who do provide this service for very small cats and dogs, have very strict requirements. Pets travel in economy, and must fit under the seat in front of you for the entire trip. If using multiple carriers, they must be on your ticket all the way to your destination. The pet carrier requirements are very different from those of excess baggage or manifested cargo. It is best to check very carefully to ensure you have met all the requirements. In some cases the pet is considered your carry on luggage, and therefore you are not allowed your usual carry on! Rembember this is accompanied luggage, and carried on to the aircraft with you. It is not the same as excess baggage!
Travel as Excess Baggage:
With this choice, the airline takes responsibility for the travel crate, as they do for our suitcases. You are fully responsible for your pet. As the passenger you receive a baggage ticket. For safety it is compulsory that your pet travel in an IATA approved kennel. The size of the kennel will be determined by the size – measurements of your pet, and in some cases your pet's breed. You make the booking, add the pet to your ticket, and you will have to check to see what your pet is in excess of, when it comes to your luggage.  You will be required to provide the details of your pet, and their carrier to the airlines at booking.  Regardless of whether you have any luggage, the airlines will charge for your pet, based on weight, at check in.
Excess baggage requires your pet to be checked in with your luggage at the passenger terminal. Instinctively pet owners feel this gives them more connection to their pet, but it is very important before making a choice, to understand the process completely.   You must bring your pet with all of their documentation to the check in counter. Your pet must at all times be in the kennel. The kennel with your pet inside will be weighed and you will pay for the excess luggage based on the weight, on the spot.   Your pet will be taken by a porter to wait for the flight, while you proceed to the departure lounge.   Your pet will travel in exactly the same cargo hold compartment on the plane, as is used for manifested cargo.   This area is fully climate controlled.   Your pet will not be taken to the fully equipped live animal lounge for pets, as would be the case for manifested cargo.   The differences between Excess Luggage Travel and Manifested Cargo Travel are the way in which you check your pet in for the flight, the calculation of fees, where and how your pet waits for their flight, and the check in and check out procedures.   Some airlines have maximum weight restrictions for this type of travel, so please ensure you verify this before booking.
Travel as Manifested Cargo: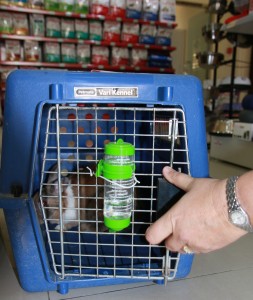 When you pet travels as manifested cargo they do so as an unaccompanied shipment. With this choice of pet travel the airline takes full responsibility for your pet during the entire process, whereas with the first two, you are responsible for your pet, and the airline, in the case of excess baggage, is primarily responsible for the pet carrier (like they are for your suitcase).
As manifested cargo, you may travel on the same flight as your pet, or you may take a different flight or route at a different time. For export, your pet is taken by our team to the airport cargo terminal, well before flight time. We ensure the cages are prepared properly, with all the required documentation per IATA regulations.   We remain you pet's companion and stay with your pet through the process.  Once they are  checked in, and pass security and customs clearance, our CVH staff from the AVI (live animal lounge) within the secure area of the cargo terminal, greet them, and help them unwind and relax. They will remain in the beautiful new live animal lounge with completely separate well lit, properly ventilated air-conditioned quarters until they need to proceed to their flight.   Pets traveling by cargo have priority over all other types of cargo. In fact they receive front of the line service at every turn.  All animals including pets, are required by international aviation transport regulations to be treated with extreme care, and are prioritized over almost all other types of cargo. Rumors of cargo travel involving a warehouse, or unsuitable conditions, do not apply to centres who have completely updated and provided state of the art lounge facilities that prioritize pets. In this part of the world, there is no other facility as modern and pet friendly as at HIA in Doha.   If you are traveling and your pet transiting somewhere else, it is always best to look into the facilities well in advance.
Having your pet traveling by cargo means less stress for you. If you are anxious, your pet will be too. If you are relocating you may already have your other family members, your suitcases, the stress of moving, closing things down here, and possible hotel stays for the last days to contend with. Pets seeing all the changes can often be very distressed, or worse still go missing with movers coming and going.  Many of our long term clients have requested that we board pets with us in the last few days to make your life easier.
Another advantage of manifested cargo over excess baggage, is with excess baggage your pet is exposed to the many people, noise and the chaotic environment of a passenger terminal, both prior to and after check in. With cargo in Doha, they are checked in and taken directly to the calm, quiet, animal only, live animal lounge which is in a completely separate building from the actual cargo terminal. This is a huge bonus for your pet.   Crowds of people, and handing your pet to a porter in the terminal, adds to anxiety, and they do not have the benefit of the quiet dedicated centre for pets. If you request special attention on their pet carrier, we will always do our best to assist, and  they can come out of their box into large cages or runs, have a litter box, fresh water, a walk for dogs and a pet caring friend to hang out with until flight time.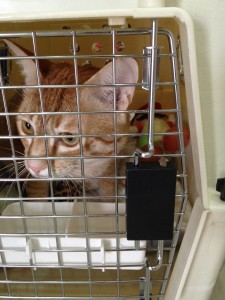 Many airports are now only allowing pets to fly as manifested cargo. This is in large due to the increased security protocols and better airport handling procedures in the live animal lounges for pets.
One of the disadvantages of travel as manifested cargo is the cost. It is certainly more expensive than excess baggage.  Fees are calculated based on the dimensions of the pet carrier (volume) and weight. There is a lot more detailed work involved for relocators when pets travel as cargo.
It is ultimately your decision as to what you feel is best for you and your pet, but first and foremost it will depend on the airline regulations and the country you are traveling to and from.
Regardless of the type of travel you chose for your pet, we are here to help answer questions and assist you make the process safe and stress free.