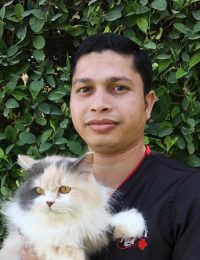 Cleaner
Brought up in Bangladesh, Razu began working in Qatar 5 years ago. He joined the CVH team in 2016. He has a great love of cats and dogs, but grew up at home with chicks, cows, cats and many kiittens.
Razu takes great pride in his work and is responsible for keeping CVH clean and tidy . He greatly enjoys working with CVH team, and they in turn appreciate his enthusiastic assistance.
Razu loves to walk the dogs and feed and care for the adoption kittens morning and night.
In his spare time he loves to study English, watch movies and play with the stray cats.