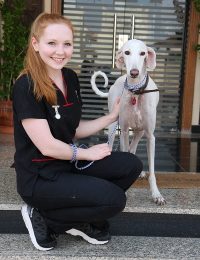 Veterinary Health Technician/Nurse
Originally from Scotland, Lauren joined the Canadian Veterinary Hospital in June of 2017.
In November of 2016, she graduated from Scottish Rural University College as a Registered Veterinary Nurse with the Royal College of Veterinary Surgeons. After graduating, Lauren worked in a small animal veterinary clinic and concurrently took on weekend shifts at an out-hour's pet hospital. Currently she is using her spare time in Doha, to study for a certificate in Veterinary Emergency & Critical Care Medicine and Surgery.
Prior to dedicating herself to small animals and studying veterinary nursing, Lauren worked in the horse racing industry for 3 years. After a lot of hard work, she obtained her apprentice Jockey License, and subsequently rode in a number of races.
Lauren greatly enjoys feline medicine at the Canadian Veterinary Hospital. She is happy exploring Doha, and all the fascinating things it has to offer. She is particularly fond of the beautiful Arabian cats and is repeatedly falling in love with them.