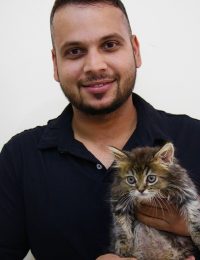 PRO
After completeing his engineering degree overseas in India, Hakkim moved to Qatar and has now lived and worked here for over 10 years. Hakkim joined our CVH team in the summer of 2017 as our Personal Relationship Officer and assistant co-ordinator for our Relocation Team. Hakkim is our life-line and go to person for all documentation, and his dedication and kindness has been a great help to the entire team.
Hakkim loves all animals, but has a specially affinity for parrots, cats and bunnies.
He is a big fan of cricket and football. In his spare time he loves to be online chatting with his family at home.