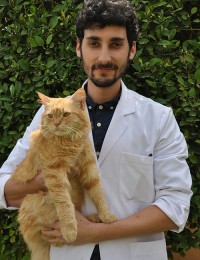 Dr. Sergio Soda completed his studies at the Veterinary University of Valencia and, along the way, gained valuable experience in some of the most important clinical veterinary hospitals in Valencia, Seville and Bilbao. Following the completion of his studies, he went on to do an internship in a neurology referral centre in Seville, working mostly in the Neurology department.
Dr. Sergio is a dedicated member of our team who loves his work with patients and clients, and is dedicated to continuing education in all areas of veterinary medicine. His main focus is in the area of neurology.
Dr. Sergio is a caring and compassionate person, whose love of pets goes back a long way. When he was just 8 years old, he found an abandoned puppy in his home town and decided to adopt it. This marked the beginning of a new journey which cemented his passion for the veterinary profession.
In his free time, Dr. Sergio likes to practise extreme sports. He enjoys motocross and snowboarding, having been active in these sports from an early age, as well as travelling and learning about new cultures.