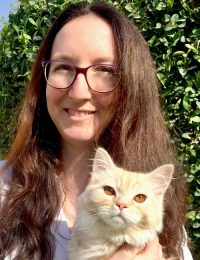 Dr. Marie, graduated from the University of Liège (Belgium) in 2010. Although from Belgium, she has yet to work as a Veterinary surgeon in her home country.
She started her career in France where she completed a one year internship in a large referral hospital, working with specialists in different fields and improving her skills in emergency medicine. After her internship, she continued to work in France.
Dr. Marie's interest in all animals, and a curiosity for different cultures, led her to broaden her horizons. She started by volunteering in animal refuges, rescues and sterilization programmes all over Asia, then for one year she managed a small animal charity and clinic in remote rural Thailand.
After her experience in Asia, she moved to Djibouti, East Africa, where she spent two years working partly as the sole vet in the only private clinic in the country. In part this was for an NGO focusing on rescuing wildlife where she had the unique opportunity to work with the big cats! In Djibouti, she realized how amazing it was to have clients from different nationalities and cultures…but she was missing teamwork! 
For this reason, in 2015, she moved to the Middle East and was surprised to have the chance to work with so many unusual animals, taking her back to her first veterinary passion: birds and small mammals. She finally came to Doha and started working for Canadian Veterinary Hospital in November 2017.
Dr. Marie has a rescue cat named Lola and likes to spend most of her free time outdoors. She particularly likes discovering hidden places in Qatar, spotting wildlife, and kitesurfing on the beautiful Arabian blue sea!