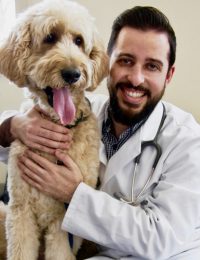 Dr. Juanjo Camarasa completed his Veterinary degree at the University of Murcia, Spain. After graduation he moved to Budapest on a full scholarship to work in The Veterinary Teaching Hospital of Szent Istvan University, where the knowledge and experience gained inspired him to further his studies in small animal veterinary surgery.
Upon his return to Spain, Dr. Juanjo obtained a Master's degree in small animal medicine and surgery, and subsequently began studying for a PhD. The initial specialization for this focused on the treatment of inflammatory bowel disease (IBD) through the use of stem cells.
Following another year of intense work in several high end emergency and referral hospitals in Spain, Dr. Juanjo returned to the Veterinary Teaching Hospital of Murcia to complete a surgical internship where he perfected and further advanced his surgical skills.
Originally from a small village in a pleasant green valley near Valencia, Dr. Juanjo grew up surrounded by orange trees and lots of animals. In his spare time he enjoys playing football, cooking and listening to new and cultural music. Dr. Juanjo joined the Canadian Veterinary Hospital Team in April 2017, and shares his Doha apartment with a very special rescue cat called "Doha", who was adopted from the Canadian Veterinary Hospital.