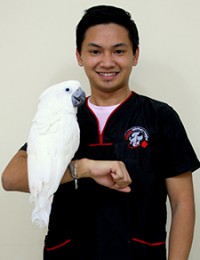 Animal Care Attendant
Kristian joined us from the Philippines in 2014. He provides extraordinary care for all the pets and takes great pride in ensuring that they, their blankets, their surroundings and the hospital are spotlessly clean at all times in our boarding area.
Kristian ensures the pets are eating and drinking, and adjusting to the pet hotel life. He goes to great lengths to see that they get the TLC they need. He weighs them weekly, helps the vets check them daily, provides play time and toys to ensure they are not bored and in essence waits on them hand and paw. Daily he along with the vets and technicians, complete documents with regards to all boarding pets, indicating amongst other things their appetite, activity and if they seem happy, healthy and content. The pets are very lucky to have Kristian as their buddy while away from home. Recently he is studying and learning a lot of more advanced care from our nurses and vets and this is helping to improve the care for our pets even further. In his spare time Kristian enjoys spending time online with his wife and new baby daughter.