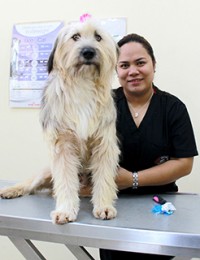 Groomer and Customer Service Advocate
Aubrey, originally from the Philippines, has been with the CVH team since we opened in 2011. Aubrey and her husband Al-John both had experience working with pets prior to arriving at the Canadian Veterinary Hospital, and they are undoubtedly the heart of the CVH team!
In 2011 Aubrey began training with Joy, who had worked and owned her own grooming salon in the UK for 35 years.  Joy, considered an elite groomer, taught grooming at the College in London, England.  Aubrey trained with Joy,  one on one, full time for over a year, and turned out to be her best student.  Since Joy returned to the UK, Aubrey has taken over all grooming at the hospital. She takes immense pride in her work, and is by far the most popular and sought after groomer in Doha. It is always best to book an appointment with Aubrey well in advance!   Aubrey encourages owners to talk to her personally and to bring a photo of what type of haircut or groom they would like for their pet.
The veterinarians like to call on Aubrey when a pet is scared as she has a way of helping them relax by listening to her reassurance. Often when pets come to her to be groomed for the first time, they are very scared, but after repeat visits it is wonderful to see them on her grooming table relaxed and enjoying the pampering and attention.
In addition to grooming, Aubrey is cross trained in all aspects of the CVH practice.  It is a pleasure to have someone so talented and passionate about everything they do, and who cares so much about the pets, clients and team at CVH.
Aubrey lives here in Doha with her husband Al-John and her amazing kitties. She plans to put her two boys through university and is working hard to give them an amazing future.