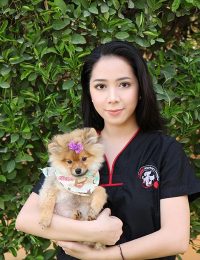 Receptionist
Originally from Miri Malaysia, Anastasia was raised in Qatar since she was two years old. The youngest of the CVH Team, she is very patient and kind to everyone, and is a fast growing front office specialist.
Anastasia was raised with and adopted many pets over the years. Her friends would call her house a little Zoo.
Her best buddy, Blazer, is a beautiful Maltese dog who was gifted to her as a puppy 12 years ago. Anastasia recently added a new family member named Bean, a younger version of Blazer.
During her free time, she likes to make herself a nice cup of tea while watching creative DIY videos, or going to the beach for long walks with Blazer and Bean. She loves to take artistic photos of the pets for adoption, in the hopes of them finding a forever home as soon as possible.
She hopes to accomplish her number one goal and travel around the world, taking pictures to add to her treasured portfolio.