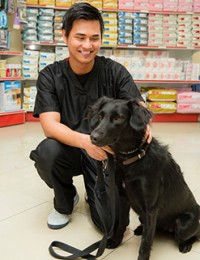 Veterinary Health Technician/Nurse
Al John is one of the most intelligent, dedicated and hard working individuals anywhere in the veterinary industry. Conscientious and on call 24/7, he has been known to be found reading anything he could find on veterinary medicine and surgery. He is the first port of call whenever the vets need help. He can gently hold and reassure even the wildest of pets, and his ability to motivate himself and others sets him in a class of his own. Quick thinking and intuitive, he is able to read the minds of the pets (and vets) before they have even decided what they are up to.
Al John has a degree in education and criminology from the Philippines. He clearly excels at anything he sets his mind to. He sets an incredible example for his three sons. To further his education, he is currently taking more advanced courses in anaesthesiology. The staff, vets, clients and most importantly the pets of Doha are very lucky to have him on our team.